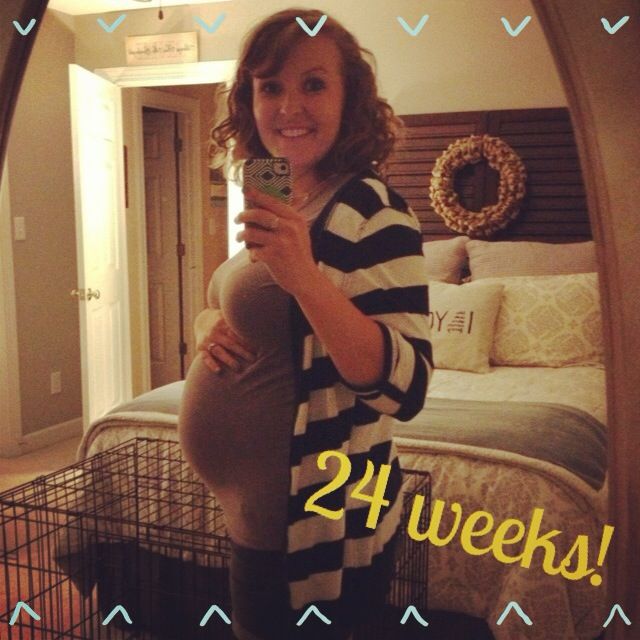 How far along?
24 weeks
Baby is the size of?
an eggplant- (9 inches long!)
Total weight gain/loss:
16 pounds! I was shocked at my appt last week to see that I had doubled my weight gain in a month...I've been told I need to slow down now :)
Maternity clothes?
LOVING maternity pants and tops!
Stretch marks?
none yet
Sleep:
i'm starting to wake up multiple times because I am uncomfortable or I have to pee
Best moment this week:
Having the nursery painted for us last week lit a fire under me! I have cleaned out everything that is not for the baby and Gabe put our crib together! It's starting to look like a nursery!
Movement:
feeling him move a lot these days! It's so fun! Gabe feels him on a regular basis now too. Other than Gabe, he has only kicked for his Aunt Blair and my bestie Taylor!
Food cravings:
I start to crave anything that anyone mentions in front of me :)
Anything making you queasy or sick:
not anymore! I will eat anything!
Have you started to show yet:
Yes! I am definitely looking pregnant.
Gender prediction:
It's a BOY!!!
Labor Signs:
none
Belly Button in or out?
In
Wedding rings on or off?
On
Happy or Moody most of the time:
Happy and feeling great!
Exercise:
I am inconsistent with exercise but I am aiming to walk every day....if it would stop pouring down rain all the time!
Looking forward to:
My parents coming in town today for the 4th of July! I can't wait for them to see what we have done so far in the nursery!