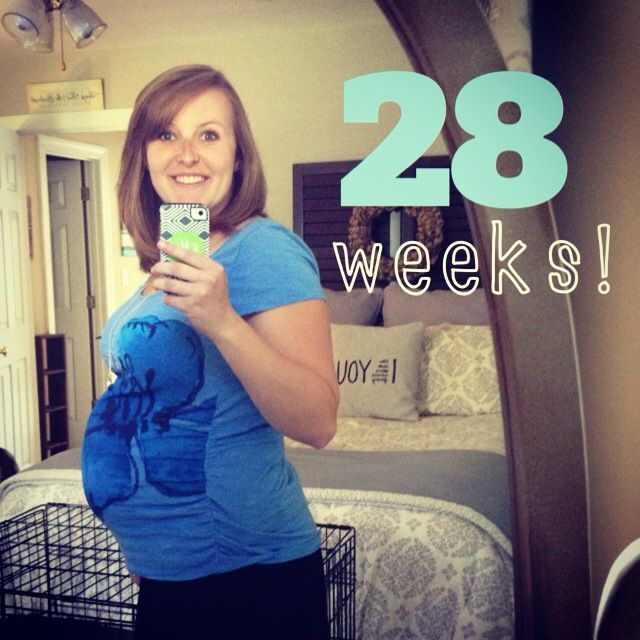 How far along?
28 weeks-- THIRD TRIMESTER!!!
Baby is the size of?
small cabbage (17 inches long! 2.9 lbs!)
Total weight gain/loss:
19 pounds
Maternity clothes?
LOVING maternity pants and tops!
Stretch marks?
none yet
Sleep:
i'm starting to wake up multiple times because I am uncomfortable or I have to pee
Best moment this week:
My best friends threw me an incredible football shower this past weekend!!! We also had our 3D ultrasound today and got to see our little man's face!!!
Movement:
He is really moving a lot lately, and a lot stronger! He was moving all over the place during our ultrasound today!
Food cravings:
I have had an omelet every morning this past week :) So yummy!
Anything making you queasy or sick:
not anymore! I will eat anything!
Have you started to show yet:
Yes! I am definitely looking pregnant.
Gender prediction:
It's a BOY!!!
Labor Signs:
none
Belly Button in or out?
In...but it is flattening out
Wedding rings on or off?
on but having to take them off when I sleep because my fingers swell so much over night
Happy or Moody most of the time:
Happy and feeling great!
Exercise:
I haven't been as active this week....i've got to get back on track!
Looking forward to:
Finishing up the nursery!!! We should have our chair delivered in the next few days and then we should be close to finished!
Here's a precious shot of my little Noah from the 3D ultrasound today!